CV Tech is a place of new beginnings. Our students come from a variety backgrounds, education levels, and life experiences. They come here so they can start something new: a new career path to walk down, a new skill to take with them anywhere, a new hobby to share with friends and family. No one exemplifies this idea better than the 2022 Cosmetology and Project Connect graduate– and Student of the Year–Julia Bradway.
Julia had a difficult time in school prior to her enrollment at Canadian Valley's Project Connect program. Project Connect is an alternative education/dropout recovery program which allows students ages 16 to 19 to obtain their high school diploma. After experiencing bullying by her classmates in her high school, Julia was looking for anywhere to be able to start over. "I really needed to (start over). My Project Connect classmates know what I've been through… and they've been helping me a lot. My favorite thing about being here is I feel like I have a family, and I didn't really feel that at my high school. It's really helped my mental issues and my confidence over all."
Julia talked with her counselor about her options, and that's when she found out about CV Tech. She learned not only could she finish class credits with Project Connect, but that she could enter a program that would give her a skill and a passion to have for the rest of her life. "My parents were all for it!" Julia said. "My mom was in the counselor meeting, my mom was really supportive. She loves that I'm here." She refused to pass up on the opportunity, and after applying, joined Project Connect and the Cosmetology program.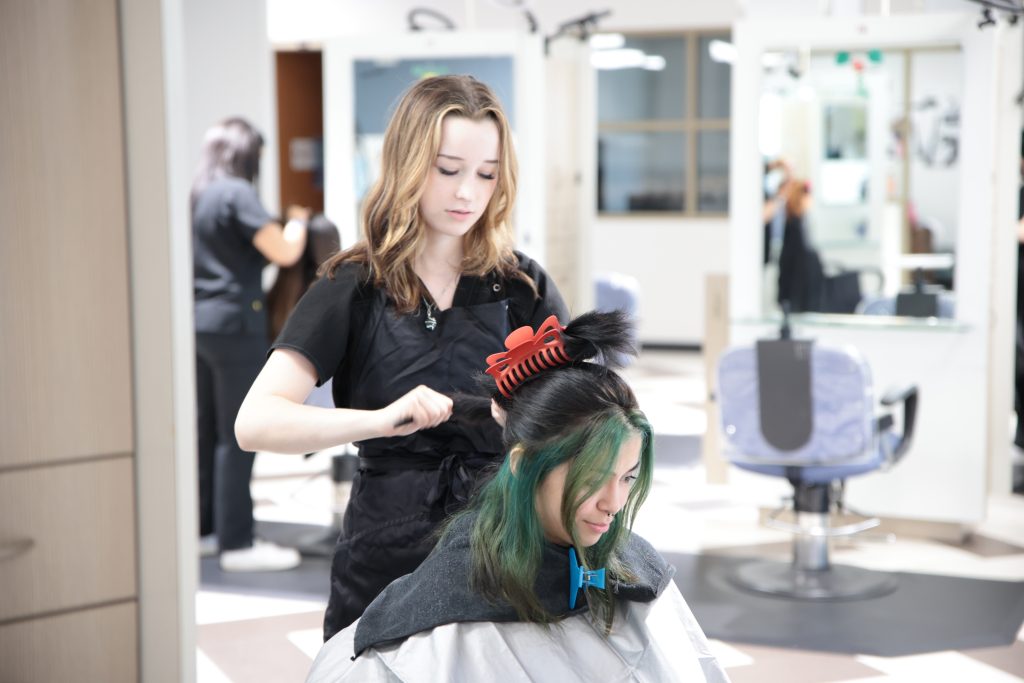 Julia has been able to shine brighter than ever before as a student at CV Tech. "I'm graduating this year and I'm really excited! Whenever I got (the Project Connect Student of the Year award) I almost started crying." Julia also received Student of the Year for Cosmetology, and she was previously student of the Quarter for both Cosmetology and Project Connect.
Not everything has been exactly as Julia had thought when she joined Cosmetology. "I didn't expect a lot actually." she recollected " Cosmetology is more around the science of (hair designs) than the practicality of it. I feel like I know a lot more of why the light hair does this, the dark hair does that… for facials there are alot of acids involved, so we have to learn what acid does what."
She also didn't expect just how involved in the culture of CV Tech she would become. Julia is a member of the National Technical Honor Society, as well as takes part in Leadership Conferences for SkillsUSA. She participates in community service, including El Reno Blessings Baskets, to give back to her community.
Julia's cosmetology instructor, Tammie Chastain, is quick to mention all the different ways that Julia has impacted the class. "She's been truly dedicated to the program… very respectful, kind to others, helps others." She recalled when a student was sick and unable to finish preparing a wig for competition, Julia volunteered to help finish the piece on the students behalf. "I can't say enough. We don't have many who come along like that. She's just truly amazing."
Julia has recently taken her State Board of Cosmetology licensing exam and is waiting for her results. "I'm seventeen right now and I already have a career path lined up for me… I feel very confident." Taking the courses at CV Tech as a high school student, Julia was able to wave 500 hours of training for successfully completing the cosmetology course. She's told us she's already been speaking to salons in preparation for getting work as soon as she leaves the classroom.
Julia Bradway is a hard working, motivated person. She's faced difficulty in her life with her head held up high, and has created a brighter future for herself. Now that she's completed her new beginning at CV tech, we can't wait to see what the next step of her journey will be.
Learn more about Project Connect and how the program is helping students excel and graduate on time!