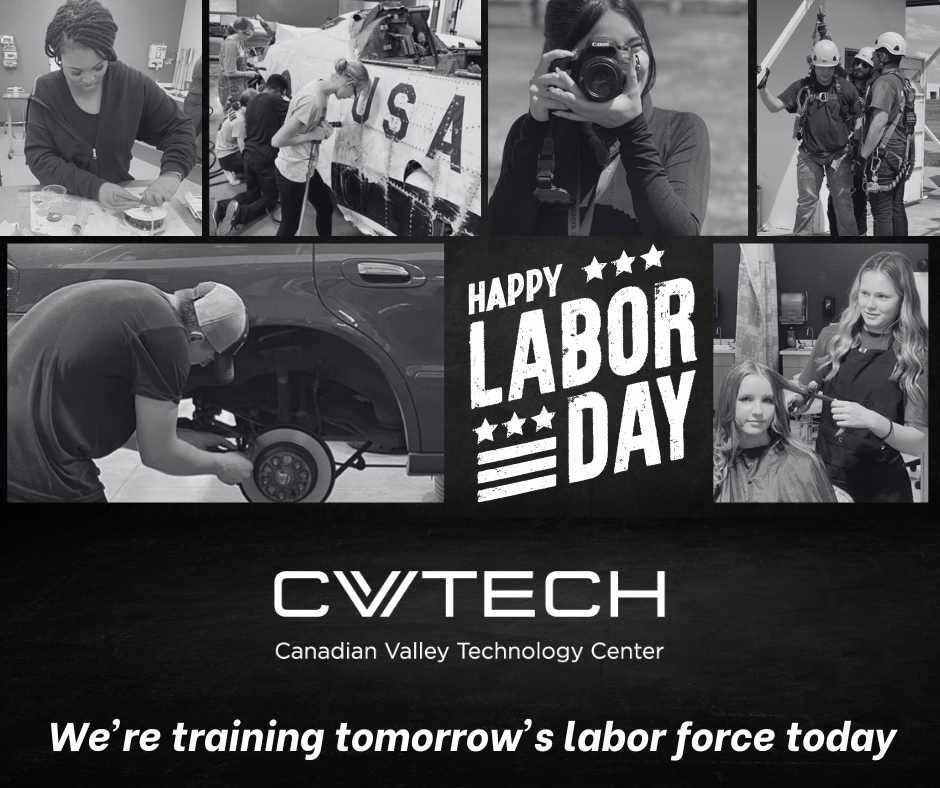 Our programs are designed to create a well-trained workforce to meet the needs of business & industries in our community. Our story of Niagra is an excellent example of how we partner with the local manufacturing industry. We also offer career training in needed fields such as health care, first responders, and will soon start a teacher prep program.
High School students from our local school districts
We have been a Gold Star Recipient since 2011. This is the highest award from the OKACTE and is awarded based on our student placement rate among other things.
We are a certified Center for Workforce Excellence in the Oklahoma Works Together program.
Our Child development centers are nationally accredited 3 star facilities (Three-star programs meet additional quality criteria and are nationally accredited) ER CH will need handbooks, brochures, information here– this section will be more colorful and look more like the campus CDCs than red/blue CV Tech.
High school students attend their school ½ day and our campus ½ day. Their programs count as electives on their diploma and they earn skills and industry certifications. Many are employable right out of high school. Based on a 2022 survey, students said they enjoyed working at their own pace, hands-on learning, being treated like adults/freedom, and instructors who care. This social media recruitment video took some common-themed quotes.
Adults choose us to learn high paying, in-demand careers with a short-term time commitment (less than 2 years) and very low cost to attend.
We offer job placement assistance and students interact with various local businesses in their field during their training, including internships.
Local businesses and industry use us as partners to train current employees and count on us to train tomorrow's labor pool.
Community members enjoy our skills classes where they can take everything from watercolor to knife making classes.
We have seminar centers and meeting rooms free* for community use at each campus. This will need to be something we include on the new site.
ROPES course CH
Live work. Community members can request work from several of our departments. We use this as real-world training opportunities for students. Examples: Cosmo accepts cut, color, nail appointments and auto service might change oil. We do not currently have an online system because acceptance is often case by case.
What Benefits Do We Offer Students
Instructors are industry experts. We recruit instructors from their field (for instance: our welding instructors are previous professional welders).
Instructors also consult advisory panels that consist of industry experts and business owners to develop and update curriculum.
Students work on industry-standard, state-of-the art equipment
Full-time mental health professional (rotating schedule) ER CO CH Counselor Connection on mental health page is a discrete form to reach counselors
On-campus college & career fairs ER CO CH
Job placement assistance ER CO CH
Redlands Community College partnership- completion of select certifications/programs at CV Tech count as college credit at Redlands for an A.A.S. (42 hrs for Aviation Maintenance!)
Career and Technical Student Organizations CTSOs provide students with leadership opportunities and skills competitions at a state, regional, and national level.
We also participate in National Technical Honor Society NTHS
Project SEARCH
(special needs adults hospital internship program) CO Project Connect Alternative HS assists those who may be in danger of not having enough credits to graduate (situations such as being bullied after reporting an assault and a military move out of state that put a student 7 credits behind are real stories– this isn't "bad kid HS"). ER GED/ Adult Basic Education (ABE) Service Careers Although we do not advertise these as any different than our other programs, we do offer two (and soon a third at CH) classes for special needs students. ER (CH 23/24) STEM Academy consists of Biomedical Sciences (CO) and Pre-Engineering (ER CH). These are college prep programs and we recruit from a pool of Freshmen in advanced math classes. It includes a rigorous curriculum of AP courses and hands-on experiments.
Discounts & Special Services